About Pristine Roofing & Gutters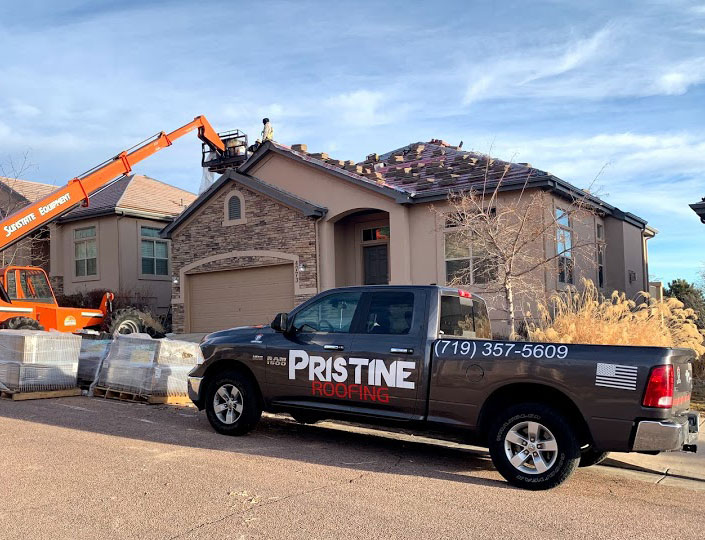 Using the highest quality materials of your choosing, we have the skills and knowledge to tackle any roofing project, as well as gutters, and painting for your house. We understand all the intricacies of what your project requires, so contact us today and see what we're about!
What to Expect When You're Getting a New Roof
Appointment: Call our office and we will set up an appointment time that fits your schedule. Don't worry; we are not the cable guy, and we will do our best to respect your busy schedule. We normally won't need more than an hour of your valuable time.
Inspection: One of our solution specialists will arrive and ask you a series of questions. We will get a feel for your needs, budget, and timeframe. While you are inside, we will assess the issues and come up with a solution. Before we leave, we will provide you with a written proposal or set up an expectation for when that proposal will arrive in your inbox.
Contract: No work is ever started without everything in writing. We make this easy by accepting written signatures as well as digital signatures delivered to your email. The work that will be done will be clearly stated, including colors and material types.
Scheduling: Within a few days of signing the contract, you will receive a phone call or email from us proposing a delivery date and start date.
New Roof Eve: Remember, your home is going to be a construction site. Our main work area is the driveway. Please remove any cars you may need to use from the garage and have the driveway completely clear. Then be sure to move your valuables. If you work from home or stay home with the kiddos, we suggest you plan errands or field trips during our work. It's very noisy!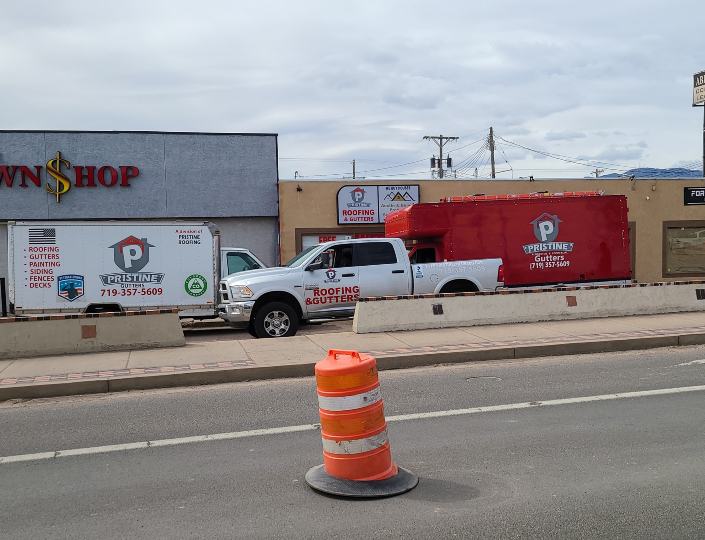 Project Management: If you are home during the process, you will meet one of our project managers during the day. If you are not home, we will keep you in the loop on the progress of your job with emails, texts, or phone calls throughout the day. Make sure to let us know how you want to be contacted!
Quality Inspection: Upon completion of the job, we complete a quality control inspection to make sure everything is done properly. If there are not, we let you know it is all good!
Payment: You will get an additional phone call or email at the office to make sure everything is all good. Then we will send you an invoice via mail, email, or both. We accept check, cash, PayPal, and credit card payments.
Warranty/Lien Waivers: Once the job is paid in full, we will get you your written warranty and lien waiver release form. Don't lose our number! We're the roofing company to trust to fix any warranted issues if they arise.
Choose a Roofing Company That Will Treat You Right
The team at Pristine Roofing & Gutters is ready to install your new roof! Call us at (719) 357-5609. We also invite you to request a free consultation to learn more about our services.
Leadership Team
Stephon Mazique
Project Manager
Stephon is one of the founders of Pristine Roofing & Gutters and is an expert in all things roofing. He oversees all the planning of roofing projects, delivery of materials, and coordination of our teams' work schedules. Stephon is a veteran of the armed forces, having served in the U.S. Army in the position of Military Occupational Specialty 94R—Avionics Radio and Survivability Repairer. He graduated from Mitchell High School and received his Bachelor of Science from Colorado State University–Pueblo. In his free time, Stephon and his wife help rescue and foster dogs in search of new homes, and they are currenly on their 45th foster dog! He also enjoys going to local breweries and distilleries, as well as spending time at the dog park.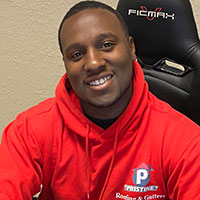 Frequently Asked Questions (FAQ)
Associations & Memberships
Pristine Roofing & Gutters is proud to be a member of several local and national trade associations that have proven to be trustworthy and reliable in the eyes of our customers!