Roofing Colorado Springs, CO
Choose Pristine Roofing & Gutters for Attentive, Affordable Service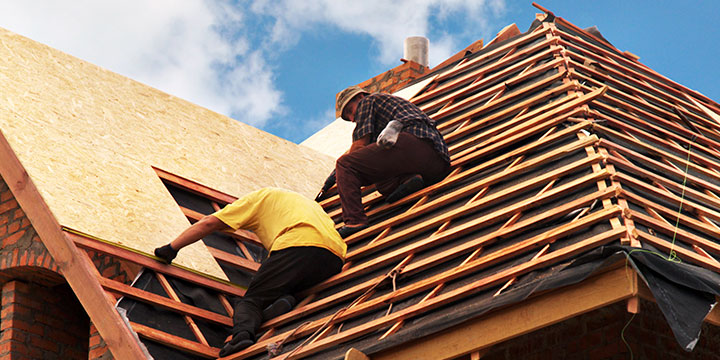 There are many reasons why your roof will eventually fail: storm damage, regular wear and tear, and old age are some of the usual suspects. At Pristine Roofing & Gutters, we know you haven't been looking forward to the day when you'll have to replace your roof, but we promise to make it as simple and stress-free as possible. We'll help you pick the right material and design for the aesthetic of your home and the neighborhood you live in. We'll also provide the information you need to create an accurate timeline and budget.
Pristine Roofing & Gutters employs enthusiastic professionals who are seasoned in installing the industry's toughest products. A roof replacement may not be what you've always dreamed of, but it shouldn't be a nightmare, either. Contact our roofing experts and we'll be happy to provide an inspection.
Signs It's Time for Roof Replacement
Not sure if you need our services? The following signs usually indicate something's wrong.
The roof is more than 20 years old.
The roof has missing or broken shingles.
There are curling or cracked shingles.
Moss or algae is growing on the shingles.
There are dark stains or visible water damage in the attic.
The roof's overall appearance is worn and run-down.
Residential Roofing
It's the Little Things That Make a Roof Last
It's true that all roofs will eventually need to be replaced, but a good roofing company can make your roof last longer. At Pristine Roofing & Gutters, we pay attention to the small details that ensure your new roof will keep you covered for years to come. Our team can make sure your gutter system and attic insulation are operating at peak performance, supporting your roof's function and saving you money in the long run.
When we start repairs on your home, it will be a smooth process. With at least six crew members and one project manager on-site, we get the job done quickly and efficiently. (Most basic, residential roof installations are completed in 1-2 days!) We also lie down tarps to collect waste, haul away all old materials, and perform a magnetic sweep of your property, so there's never any cleanup required on your end!
Work With the Roofing Company You Can Brag About!
To learn more about our roofing or attic insulation services, call Pristine Roofing & Gutters today at (719) 357-5609, or use our simple form to request a free consultation.
Hail Damage Roof Repairs
When a severe hailstorm hits your house, it can be devastating to your roof. Hail damage can leave shingles in tatters and tiles cracked. The largest hailstones can even punch holes clean through, into your attic, crawlspace, or insulation. With any level of traumatic damage, your house is vulnerable to moisture intrusion, which can eventually lead to more costly repairs.
Instead, rely on Pristine Roofing & Gutters to repair your hail-damaged roof quickly and affordably. With unique insights into the insurance process, we make sure you receive proper reimbursement.
Multiple Shingle Options
Are you looking for a durable, attractive roofing solution for your Colorado Springs-area home or business? If your answer is yes, then you need the shingle roof installation professionals at Pristine Roofing & Gutters. When you want the ultimate protection, impressive curb appeal, and dramatic color contrast, you'll want to take a look at the Owens Corning® roofing shingle options on our Products page.
Your Insurance Claims Specialists!
Did You Know? Most homeowners' policies cover hail damage and will pay for the cost of your roofing repairs or replacement.
Pristine Roofing & Gutters has extensive experience working in these situations, and we are happy to provide our expertise as we guide you through the insurance claims process. provisions
When you experience hail damage to your roof (as well as tree branches or other accidents), you're probably feeling stressed and overwhelmed as it is. Don't worry! We are here to make sure you receive all the compensation your policy entitles to you. Contact us today to start the process.